Gallery of Past Club Events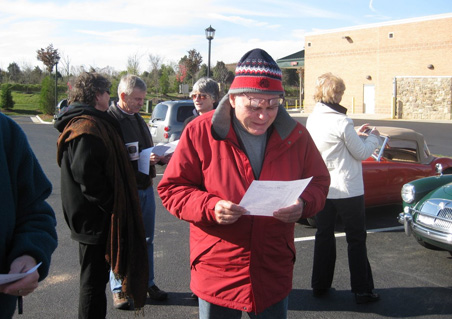 November Drive to Lunch
November 7, 2009
It has become tradition we end our primary driving season with a Side Curtin Fling – a drive where the air temperatures are crisp enough that tops-up and side curtains in place may be required. Each year, however, we seem to be favored with beautiful MGA driving weather. This year our Drive was planned by Bill & Kathy Wemhoff with a lunch destination of Magnolias at the Mill restaurant in Purcellville, Va.
The following is a recap of our Drive provided by Charlie Adams.
The morning was brisk and but the iris blue sky held the promise of warmer temperatures. By 8 o'clock on November 7, the 30s had given way to high 40s. With the sun rising higher it sure looked like the possibility of tops down for LBCs later in the day. However, there were those hardy souls who put the top down early that morning, braving the crisp, cold air while wrapped up in warm gear. Having checked Weather Underground one last time, Alana and I headed out knowing that clear sky and warmer temperatures were going to bring smiles to all who could join the MGA caravan.
Our first stop was Bill Marshall's home in Manassas. At Bill's home, Alana and I moved into Bill's red MGB GT. Thanks to Bill's generosity, we would make this drive in the Most Expensive MGB in Northern Virginia. There could not be more than one MGB owner forced to build a garage as a part of the purchase of their B! We were joined by Keith & Kathy Kallapos in their fresh and beautiful BRG MGA. The Kallapos were dressed in style for top down motoring. Following Keith and Kathy's example, Bill led the way to the Stone Ridge Shipping Center top down also.
When we arrived at Wendy's, club members were already gathering. I think that Laurie Lawson traveled the furthest to join us that morning, making the journey from Gaithersburg, Md. He arrived with the top up on his exceptional Ash Green twin cam, but it wasn't long before Laurie decided he would go on from this point with top down. On the other hand, Liz Ten Eyck and friend Lynn Millar did not hesitate to travel in style and warmth with the top up and side curtains in place in her beautiful root beer-colored Mark II. Amy Rothberg also met us at Wendy's and rode shotgun with Bill, as Karen was in Texas visiting with their newest granddaughter, Brooke.
Altogether there were eight MGs lined up for the start of the drive, including Carl & Jean Josefson with a lovely new interior in their MGA, Bob Schoeplein in Jane's white MGB, and of course Bill & Kathy Wemhoff, our hosts and route planners extraordinaire. After receiving our direction sheets and itinerary it was time to settle in and see what fine treats Bill and Kathy had designed for this day.
We explored a lovely rural corner of Virginia's Loudoun County tucked between the Potomac and West Virginia. A drive with some classic northern Virginia road names including Evergreen Mills, Charles Gap, Loyalty, Taylors Town, Lovettsville, Stony Point and the Snickersville Turnpike. Near Point of Rocks we were joined by Maryland members Jack & Shelia Stern, who brought their 1500 MGA into our caravan as if they had been there from the outset.
We wound through:
• lovely Waterford, founded in 1732 by Irish immigrants and which retains the feel of its colonial and civil war era growth;
• Lovettsville, which has a German heritage dating from 1722;
• and Round Hill, named for the nearby hill used during the Civil War as a signal post by both Confederate and Union troops.
Led by the fading fall leaves hues of reds, golds, oranges and yellows, blue sky and yellow sun, our caravan of lovely MGs brought out waves from many of those that we passed.

At Purcellville, we lunched in a private room at Magnolias at the Mill, one of the finest Loudoun County restaurants. Joining us at the restaurant was Martha Ludtke making the short drive from Winchester and Butch and Judy Smith, whose MGA continues to undergo the repainting process. Lively conversations among friends and excellent food had all smiling this day.
Many thanks to Bill and Kathy for planning this fall adventure!